You will no doubt have heard that there isn't a festival in the World that has gone ahead normally for 2021, at least not in the first half of the year. We really want to get us all together asap, but we need to be safe so until there is an all clear that we can trust we fall back on alternative programming methodologies once again – read streaming shows from living rooms across the land. More to come as Spring turns to Summer, and from the way things are looking at the moment likely into the Fall as well.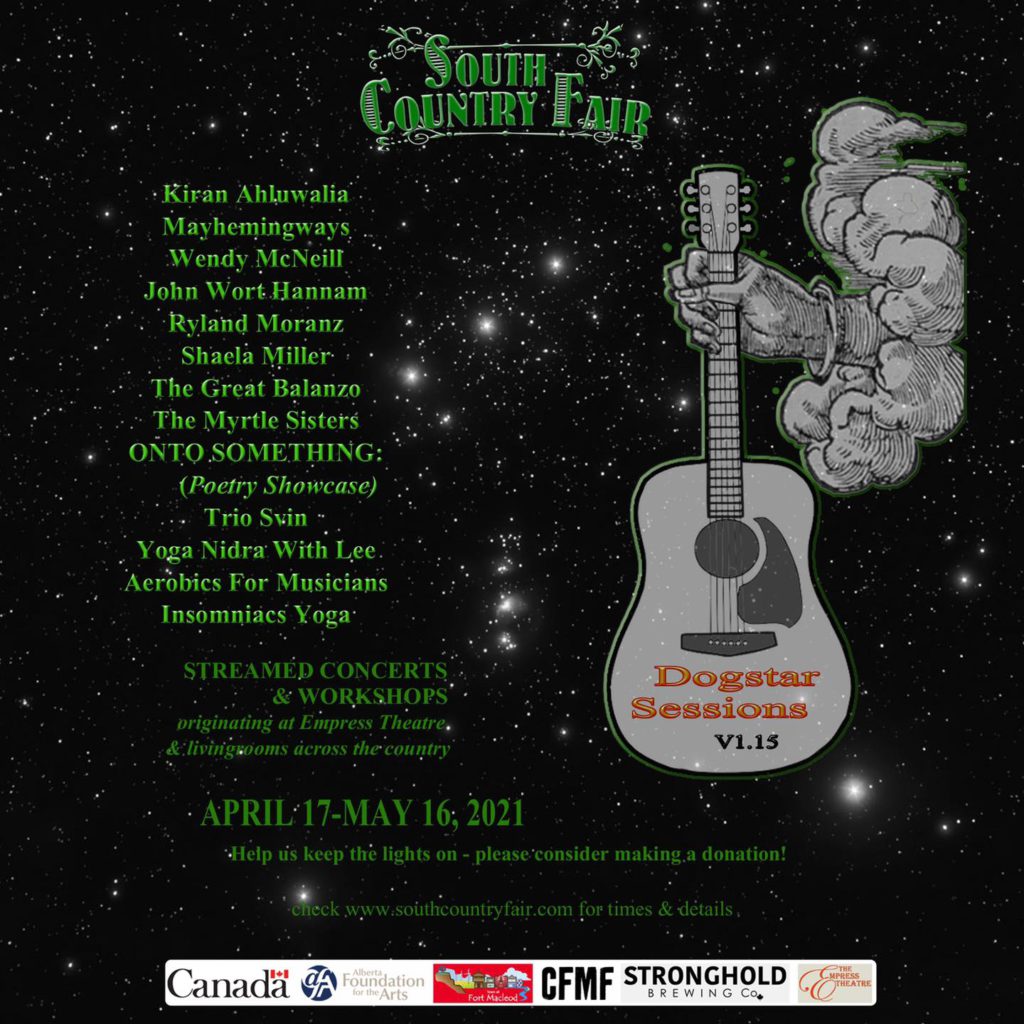 So here's what we have planned for the next few weeks:
DATE
ARTIST
TIME
Saturday, April 17th
Wendy McNeill
7:30 PM MST
Mayhemingways
8:45 PM MST
Sunday, April 18th
Insomniacs Yoga
2:30 PM MST
Saturday, April 24th
The Myrtle Sisters
7:30 PM MST
Sunday, April 25th
Kidz Kountry
Presents:
The Great Balanzo
2:30 PM MST
Saturday, May 1st
Kiran Ahluwalia
7:30 PM MST
Sunday, May 2nd
Yoga Nidra with Lee
2:30 PM MST
Saturday, May 8th
ONTO SOMETHING:
poetry from the alley at sundown
7:30 PM MST
Sunday, May 9th
SCF Sessions:
John Wort-Hannam,
Shaela Miller,
Ryland Moranz
2:30 PM MST
Saturday, May 15
Trio Svin
7:30 PM MST
Sunday, May 16th
Aerobics For Musicians,
Insomniacs Yoga
2:30 & 3:00 PM MST
Check back for updates and more information, and most importantly, links to the shows. Please at this point consider making a donation to South Country Fair, there is a button on our landing page. We as with other venues who are presenters of live music have no means to generate income right now – any level of donation you can afford will be deeply and gratefully accepted, and will help us to literally keep the rent paid and the lights on!
As with last Fall we will be posting teasers and the aforementioned show links and things to our Facebook page so watch for those!